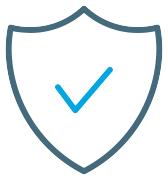 The gut microbiome—the microbial community in the intestinal tract—is an influencer of metabolism and immunity and a mediator of resistance to some pathogenic infections.1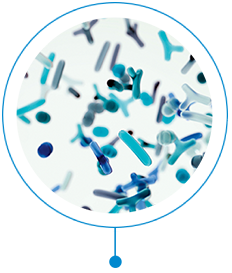 A distinct and essential organ within the human body, the gut microbiome contains an estimated 500-1000 species and 100 trillion organisms, encoding 100-fold more unique genes than our own genome.1-4
In its balanced state, there is a symbiotic relationship between luminal bacteria and our human cells.5
These cells communicate and form long-lasting, interactive associations that play a vital role in conservation of mucosal immune function, epithelial barrier integrity, motility, and nutrient absorption.5-7
Dysbiosis is the disruption of the composition and/or diversity of the gut microbiome.
The causes of dysbiosis can be attributed to stress, diet, hygiene, and use of antibiotics. Dysbiosis has been associated with a range of different gastrointestinal (GI) and non-GI diseases including neurologic, metabolic, liver, inflammatory, and infectious diseases. Restoration of the gut microbiome homeostasis is essential to rectifying dysbiosis.5,8,9
While this often occurs as a natural process, therapeutic intervention may also be required.
C. diff infection can be more
dangerous when it recurs.
Can the power of the microbiome help
change the course of treatment?
Share this with colleagues!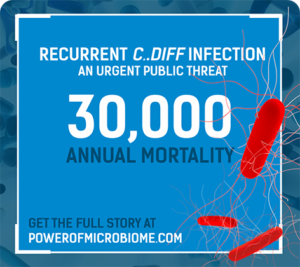 References
Gilbert JA, Blaser MJ, Caporaso JG, et al. Current understanding of the human microbiome. Nat Med. 2018;24(4):392-400.
Antharam VC, Li EC, Ishmael A, et al. Intestinal dysbiosis and depletion of butyrogenic bacteria in Clostridium difficile infection and nosocomial diarrhea. J Clin Microbiol. 2013;51(9):2884-2892.
Thursby E, Juge N. Introduction to the human gut microbiota. Biochem J. 2017;474(11):1823-1836.
Marchesi JR, Adams DH, Fava F, et al. The gut microbiota and host health: a new clinical frontier. Gut. 2016;65(2):330-339.
Bien J, Palagani V, Bozko P. The intestinal microbiota dysbiosis and Clostridium difficile infection: is there a relationship with inflammatory bowel disease? Therap Adv Gastroenterol. 2013;6(1):53-68.
Ley R, Hamady M, Lozupone C, et al. Evolution of mammals and their gut microbes. Science. 2008;320(5883):1647-1651.
Mazmanian S, Liu C, Tzianabos A, Kasper D. An immunomodulatory molecule of symbiotic bacteria directs maturation of the host immune system. Cell. 2005;122(1):107-118.
Weiss GA, Hennet T. Mechanisms and consequences of intestinal dysbiosis. Cell Mol Life Sci. 2017;74(16):2959-2977.
Riaz Rajoka MS, Shi J, Mehwish HM, et al. Interaction between diet composition and gut microbiota and its impact on gastrointestinal tract health. Food Science and Human Wellness. 2017;6(3):121-130.